First Muslin Pair of "Jeans"
I figured that the best way to learn how to make a pair jeans was to start with a commercial pattern. I chose Burda 7733 mainly because it was one of only two patterns that I could easily find, and it seemed to have a more "modern" cut than the other pattern I saw. After completing the pattern with muslin though, I realized that I probably would have liked the fit of the Kwik Sew 3504 better. I can't really say, however, because in trying to figure out which size to cut (Burda uses European sizing) I ended up cutting the pattern in too small of a size for me to actually try on. I'm a fairly skinny guy, usually wearing a 30-32 inch waist, and this practice pair would have fit like a blood restricting skinny jean, if I could have gotten them on at all.
The pictures aren't the greatest quality and the muslin definitely needs to be ironed, but you get the idea.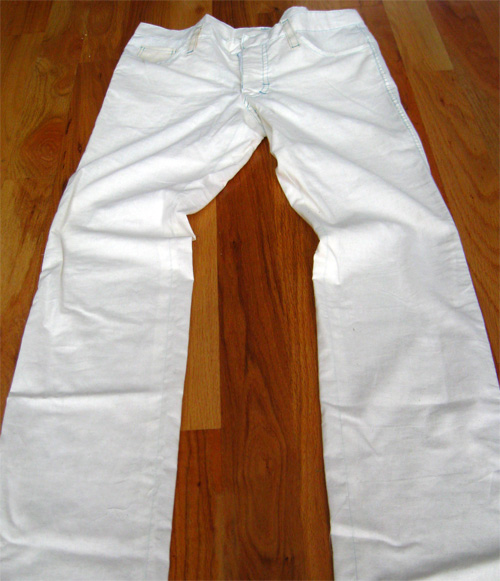 It seems like the back pockets are positioned a little too low.
After examining lots of pictures online, and studying a few pairs of jeans in my closet, I decided that there is a lot I would change about this pattern. Starting with the back pockets, I would alter the shape and placement. As I mentioned above, I couldn't actually try these on, but judging from the picture on the pattern envelope, the back pockets fall below the butt area onto the hamstring, which is too low for my taste.
As far as the front pockets go, I've never seen front pockets constructed with the same method this pattern uses. Even with my limited sewing knowledge, I think there are better/cleaner ways to make front pockets that will be stronger and more durable.
The last major change I would make is to the fly. I've decided that I want to try and learn how to make a button fly rather than a zipper. I went ahead and put in the zipper fly here because that is what the pattern called for, but my next practice pair will have a button fly.
Depending on how you like your jeans to fit and look, this pattern might be just what you are looking for. For me, it was a great way to get some much needed sewing practice, and it helped me to figure out what I want to do with future pairs of jeans.
This post contains affiliate links which means I will make a small commission if you purchase through those links. I only recommend products that I know, trust and love!