New Shirts, Mid-Project Update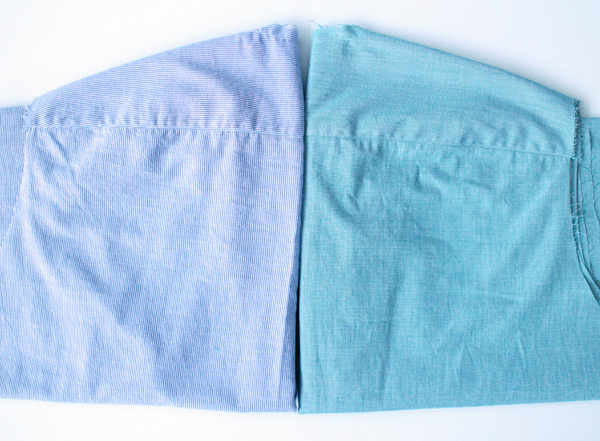 I started work on two new shirts this week, and while these colors and fabric weights are more appropriate for spring and summer, I've had this shirting fabric in my stash for over a year and have been dying to use it. The left shirt is made out of a super light weight (almost see through) blue/white, yarn-dyed, cotton, and the shirt on the right is a green-ish/aqua chambray, also 100% cotton.
Since each of my projects takes several weeks to complete (sometimes longer), I decided to start doing some mid-project updates part way through the construction process. So far I have sewn the shirt backs and fronts to the yokes, and nearly finished making the collars. I like the casual and somewhat preppy look of button down collars, so the last step for the collars is sewing the buttonholes before attaching the collars to their stands, and then the stands to the shirt necklines.
Every time I start making shirts I pull out my copy of Shirtmaking by David Coffin. While I'm always looking to learn new things and try new techniques, this book is my "go to" for construction methods. Speaking of actually putting the shirt together, my focus this time around, and hopefully from here on out, is to sit back and really try to enjoy the construction process.
All too often, I get carried away with simply trying to finish a project, and forget that one of the reasons I started making my own clothes is that I enjoy working with my hands and creating. If all I wanted to do was acquire a new shirt, it would be WAY easier and probably less expensive to just go buy one.
Happy sewing and happy holidays!
This post contains affiliate links which means I will make a small commission if you purchase through those links. I only recommend products that I know, trust and love!