Unstructured Jacket
I finally finished my first jacket! I've been working on this forever, about 16 months, which is way, way too long. It is a two button, unstructured, side vent jacket with a minimal lining. I made it out of a piece of textured cotton I've had laying around in my stash for a while.
The fit isn't perfect, but as usual, these things are a work in progress. I wanted a classic look, not too tight, not too loose, not too short. I also wanted a fairly wide lapel when I started out. Having said that, I would probably shorten the length just a little next time, and narrow the lapel a bit. I'm still not a fan of really narrow lapels, but I would probably shave a 1/4" or so off of this one for the next jacket.
For the pattern, I used a draft I found on the Cutter and Tailor forum to start, then made adjustments to the fit from there.
Even though it's just cotton and not a nice wool, I wanted to practice pad stitching for the lapels. I also pad stitched the collar using felt, and assembled the collar by hand.
As far as construction techniques go, I used a Roberto Cabrera and Patricia Flaherty Meyers book called Classic Tailoring Techniques: A Construction Guide for Menswear.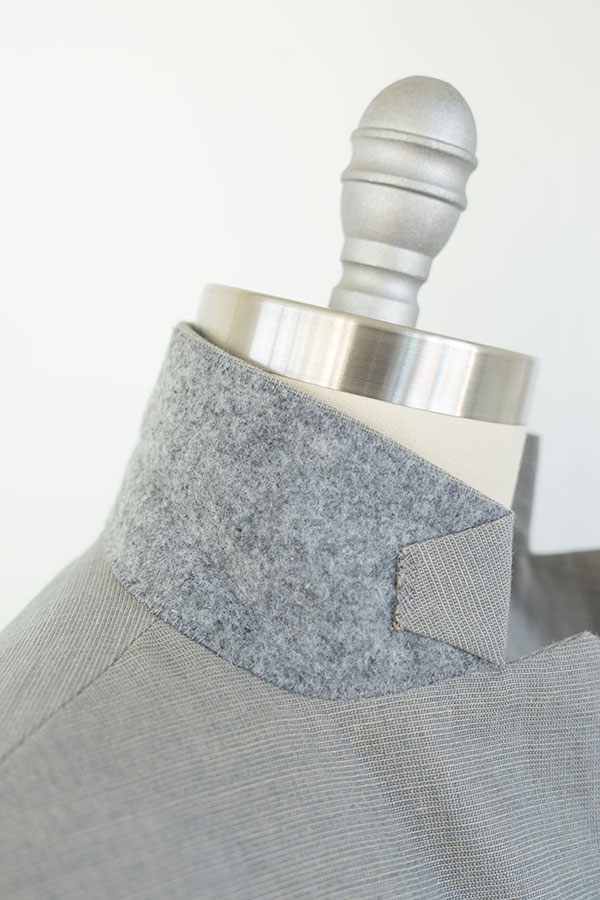 My hand stitching could use some more practice. I really loved this method for attaching and building the collar. Rather than using a piece of the jacket fabric as an under collar, attaching it right sides together and then turning the collar right side out, like you might do with a shirt, this was much more satisfying. The felt goes directly on the outside of the collar line to the right side of the jacket fabric, and then the top collar ends are folded over like a tailored suit jacket or sport coat. This made for a much cleaner look.
There are two double welt pockets on the inside facing and hip patch pockets on the outside. The cuffs are functional surgeon's cuffs, you know, in case I ever have to roll up my sleeves and get dirty and don't have time to take my jacket off 🙂 .
I lined the sleeves, and put in a couple pieces of "floating" lining fabric over the shoulder area to be able to easily slide the jacket on and off, otherwise it is unlined. Then I used bias tape throughout to finish all of the other seams.
The weather in Nashville can be quite warm in the spring, fall, and summer, so I wanted something as light weight as possible (without using expensive linen for a first jacket). This meant that I didn't want a full lining, and except for the lapels and collar, I left out most of the traditional structure you might find in a jacket.
There is a time and a place for a structured jacket that is fully canvased with shoulder pads and lots of shape, but I rarely find myself in that sort of time or place. I actually really like the unstructured look. The less structure, the less formal and more natural the look in my opinion.

I'm hoping for more sewing in 2017 than I was able to do in 2016. I've already started work on a new trouser pattern, have plans for a different type of jacket, updated shirt pattern, and perhaps another bag pattern release!
Save
Save
Save
Save
Save
Save
Save
Save
Save
Save
Save
Save
Save
Save
Save
Save
Save
Save
This post contains affiliate links which means I will make a small commission if you purchase through those links. I only recommend products that I know, trust and love!